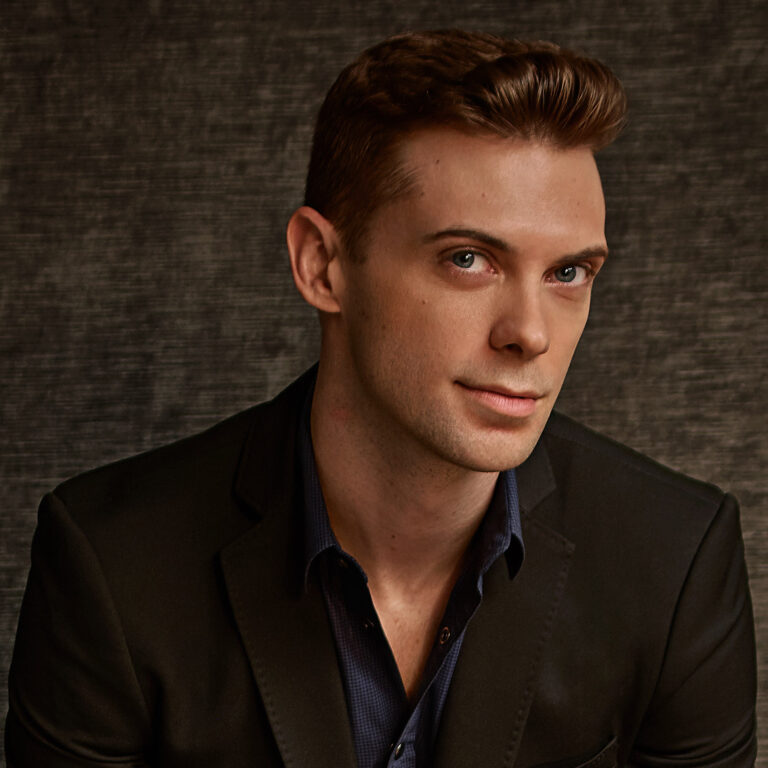 Michael Novak
Artistic Director
Michael Novak became the second Artistic Director in the history of the Paul Taylor Dance Foundation in September 2018, having been selected by Mr. Taylor months earlier to succeed him upon his death. A critically acclaimed dancer of the Company from 2010 to 2019, Novak was nominated for the Clive Barnes Foundation Dance Award for his debut Season. During his career with the Company, he performed fifty-six roles in fifty Taylor dances, thirteen of which were made on him, and new roles in several works by other leading choreographers.
Biography
"Paul Taylor knew what he was doing when he left his modern dance organization in the capable, creative hands of Michael Novak […] He not only cares about modern dance, but he also knows how to keep the memory of Taylor – the strange parts, just as much as the joyful – fully alive."
– The New York Times
Under Novak's direction, the Paul Taylor Dance Company continues to be one of the world's premier dance companies, with robust domestic and international touring; an ever-expanding repertory that includes the Taylor canon, historical masterpieces, and works he commissions; and an annual engagement at Lincoln Center for the Performing Arts. The New York Times hailed his inaugural season as Artistic Director as "groundbreaking and inspirational." In 2019, he partnered with Orchestra of St. Luke's Bach Festival, curating the first presentation in a single engagement of all six of Paul Taylor's iconic dances set to music by the Baroque composer. In memory of Mr. Taylor, he launched "The Celebration Tour," a multi-year international touring retrospective of the Taylor repertoire. He co-directed the Company's first virtual live-streamed benefit, Modern is Now: Stories of our Future, hailed by many as the high bar for digital dance benefits. And during the height of the Covid pandemic, he brought the Taylor Company to sixteen venues in eleven American cities for a total of fifty-one performances, earning the designation "Best of Dance 2021" from The Washington Post. His 2021 selection of Taylor alumna and dance educator Carolyn Adams to head the Taylor School underscored his commitment to preparing and cultivating the next generation of professional dancers and dance advocates and broadening the Foundation's impact in arts education. In 2022 Novak selected former New York City Ballet dancer Lauren Lovette to be the Taylor Company's first Resident Choreographer.
Raised in Rolling Meadows, Illinois, Novak began studying dance at age ten and by age seventeen was offered a Presidential Scholarship to attend The University of the Arts in Philadelphia to pursue training in jazz and ballet. The following year he undertook an apprenticeship at the Pennsylvania Academy of Ballet Society. In 2005 Novak was admitted to Columbia University's School of General Studies, where he was awarded scholarships for academic excellence. He became a member of the Columbia Ballet Collaborative, the University's critically acclaimed resident company, and was named Artistic Associate responsible for advising on the curation of resident choreographers and directing the group's branding and promotion. At Columbia, Novak became immersed in the study of dance history, which ignited a passion for modern dance. He developed a keen interest in the work of François Delsarte, the 19th Century French movement theorist who codified the system linking emotion and gesture that would inspire the first generation of American modern dancers. At Columbia he performed Mr. Taylor's solo in Aureole, which led him to embrace the Taylor repertoire. In a 2009 program celebrating Diaghilev at Columbia's Miller Theatre, Novak embodied Vaslav Nijinsky's role in L'Après-midi d'un faune with an authenticity that brought him to the attention of dance critics and scholars. Upon graduation, he received his BA in Dance magna cum laude with Departmental Honors, and was elected to Phi Beta Kappa. As a distinguished alumnus, he was the Keynote Speaker for the Class of 2020.
PHOTO CREDITS (top to bottom | left to right) Header photo of Michael Novak in the David H. Koch Theater at Lincoln Center for the Performing Arts, the Taylor Archives; portrait of Michael Novak, Bill Wadman; Michael Novak on stage, Paul B. Goode; Michael Novak in Arabesque, Paul B. Goode; Michael Novak, Misty Copeland, and Kyle Abraham at the PTAMD Gala, Whitney Browne; Michael Novak in Central Park, Jordan Matter.