Experience Alex Katz & Paul Taylor in New Ways this Fall!
A world of magnificent dancing and astonishing design awaits with Taylor X Katz. Experience four amazing dances that provided the incomparable Alex Katz with a canvas as large as a stage. In Polaris, Taylor's choreography is contained within Katz's large metal cube until the dancers burst free, and two ensembles execute the exact same steps to different music and to drastically different effect. In the sprightly Diggity, Katz's canines form an obstacle course the dancers skillfully negotiate. The darkly dramatic Scudorama, dotted with Katz's scudding clouds, was Taylor's response to the looming Armageddon of the early 1960s. Sunset poignantly shows the deep camaraderie among soldiers and the devastating sense of loss felt by those they leave behind.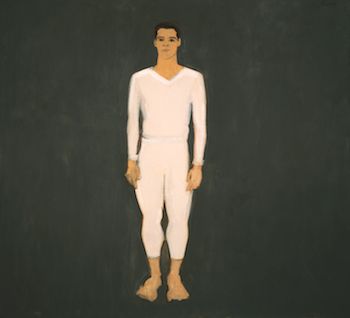 World-renowned painter Alex Katz first worked with Paul Taylor in 1960; they collaborated on sixteen dances over four decades, many considered among the greatest collaborative works in the performing arts.
See the breadth of their collaboration at Works & Process at the Guggenheim, Paul Taylor Dance Company's fall season at Lincoln Center, the New York Public Library for the Performing Arts in partnership with the Jerome Robbins Dance Division and Works & Process, at the Guggenheim Museum's retrospective Alex Katz: Gathering, and at Colby College's Alex Katz: Theater and Dance.
PHOTO CREDITS (top to bottom | left to right) Header Photo of the Company in Polaris, Ruven Afanador; Paul Taylor, 1959. Oil on linen by Alex Katz; Solomon R. Guggenheim Museum façade, Colby College Museum of Art building.